Friends of Almagreira House well found with useful news about your holiday in Portugal. We continue the series of articles dedicated to discovering Peniche, explaining today which are the pharmacies in Peniche, the business premises to turn to in case of need.
We will then offer you a selection of places with address and map, in order to find the place closest to you, especially if you have chosen to book your accommodation in Baleal with us. In short, the same approach as the previous informative articles dedicated to the pearl of surfing in Europe, such as the list of supermarkets in Peniche or the taxi service in Peniche.
Where are the Pharmacies in Peniche
Below you will find the complete list of pharmacies in Peniche and surroundings with exact address. The data has been taken from Google My Business, which we recommend you to use to get the phone number of the activity of your interest as well as to get the opening hours:
Higiénica – R. António Conceição Bento 23, 2520-294 Peniche
Farmàcia Central de Peniche – R. José Estevão 16, 2520-205 Peniche
Farmàcia Proenca – Praça Jacob Rodrigues Pereira 14, 2520-476 Peniche
Well's – Rua General Humberto Delgado, Sitio Do Convento Lote 7, 2520-446 Peniche
Wells Saude – R. Gen. Humberto Delgado 126-127, 2520-446 Peniche
Farmàcia Confianca – R. Dr. José Augusto Vaz 3, 2525-077 Atouguia da Baleia
Farmacia Serra – Avenida da Liberdade 78, 2525-801 Serra d' El-Rei
Farmacia Santo Estevao – R. do Brejo 4, 2520-123 Ferrel
Pharma Nossa sra da Guia – Av. do Mar 42, 2520-111 Ferrel
Cannabis Pharma Portugal/Peniche – Av. Monsenhor Bastos 33, 2520-206 Peniche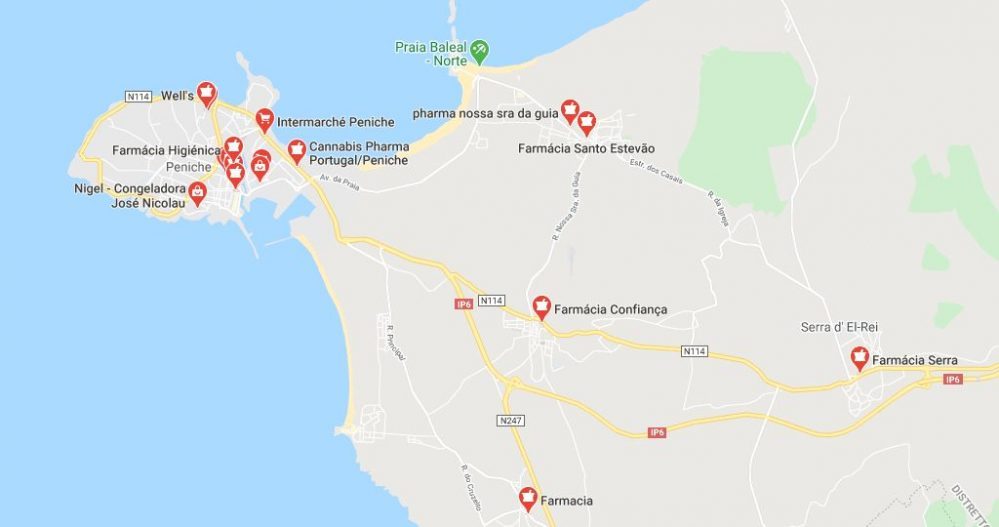 Opening / Closing Service of pharmacies in town
We have also discovered a website with a dedicated service indicating the opening and closing times of pharmacies in Peniche. The link to visit is as follows: Farmacias de Servico
Here you will find the list of pharmacies on duty in the city, with contact details and map, the same style of information we have used in this post.
Conclusions
Hoping to have offered you some useful information about the pharmacy in Peniche, we remain available for further updates or suggestions. Obviously we hope that you will never need them for serious reasons, but if you click the post you will find the main indications to solve your problems.
See you next!