Friends of Almagreira House, well found with a new article in our blog dedicated to holidays in Portugal. Today we will explain something about the nightlife in Peniche, offering you a wide selection of clubs in the city where you can relax after a day of sport, spent between a surf lesson or a yoga session. If these two disciplines are of interest to you, we recommend that you take a look at the holiday packages on our website designed for you.
But now let's start with the analysis of the best clubs: bars, pubs, discos where you can go out with friends and have a little party! As always, we would like to offer you a selection of nightclubs in Peniche according to their geographical area so that even those who have to book a taxi service in Peniche can still move freely and without problems.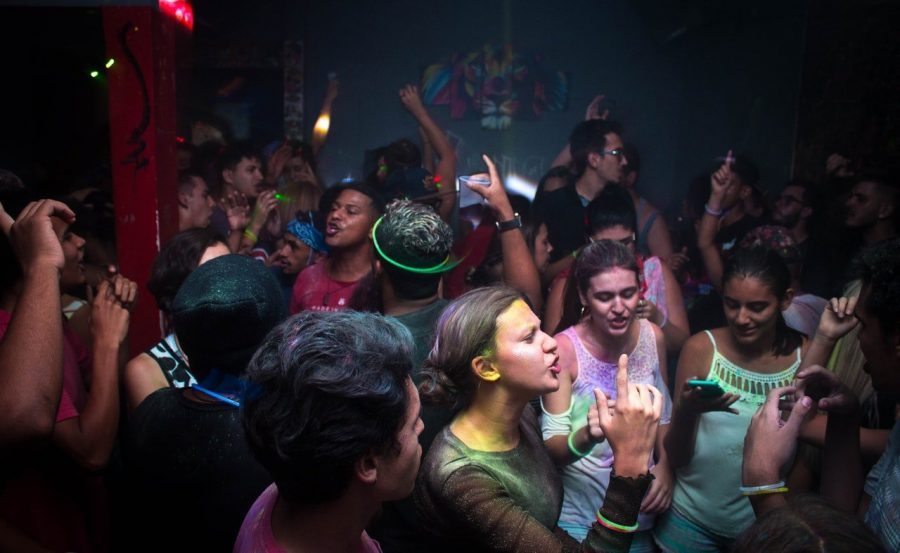 Nightlife in Peniche and surroundings
Baleal
Baleal Cocktail Bar – Av. do Mar 97, 2520-061 Ferrel – Close around 03.00
Bar Beach "Bar da Praia" – Baleal s/nº, 2520-619 Ferrel – Close around 04.00
Bar Bocaxica Surf  – Avenida da Praia, Baleal, 2520-051 Peniche– Close around 24.00
Peniche city centre
Aviz Bar – R. Alexandre Herculano 80, 2520-273 Peniche– Close around 03.00 / 04.00
Mystic – R. dos Hermínios 30, 2520-294 Peniche – Close around 02.00
Taberna Remedio Santo – 
Berlenga's pub – Av. do Mar, 2520-326 Peniche – Close around 03.00
Marks Caffè – Escadinhas de Santo António 4, 2520-492 Peniche – Close around 04.00
Java House – Rua Doutor Manuel Ribeiro Ferreira 14, 2520-619 Peniche – Close around 03.00
Remedios Lounge Bar – Estr. dos Remédios 28, 2520-641 Peniche – Close around 23.00
Ferrel
Riclè Bar – R. da Paz 14, 2520-128 Ferrel – Close around 06.00
Consolacao
Clube da Praia – Av. do Mar IA3, 2525-150 Atouguia da Baleia – Close around 20
We have included images of the maps for bars and pubs as well as discos located in the surrounding area, to make it even easier for you to find the best nightlife in Peniche.
Discos around Peniche
Chapter aside for discos in the Peniche area. Some of them are located outside the city centre and you will need to have a means of transport to reach them. Anyway we offer you a list of those present in the area.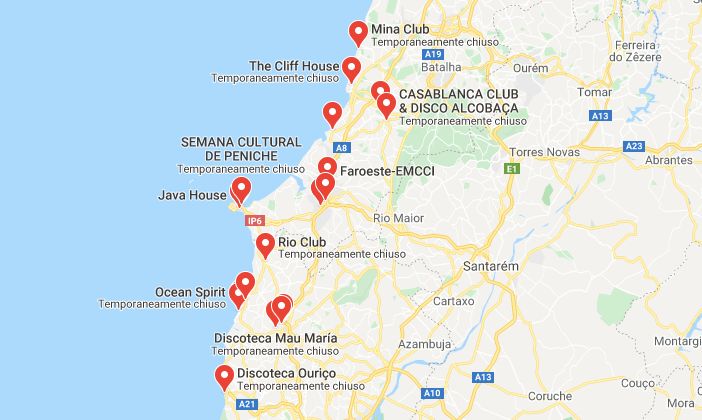 Rio Club =  6,, Av. de Moçambique 4, 2530-767 Lourinhã
Discoteca Faraò = R. do Seixo, A dos Cunhados
Discoteca Ourico = Tv. do Caminho Novo 7, 2655-252 Ericeira
Discoteca Mau Maria = discoteca maumaria, 2560-232 Torres Vedras
Ocean Spirit = R. Dr. João de Barros 1, 2560-487 Silveira
VerãoSão = Urbanização Simão 23, 2460-084 São Martinho do Porto
Casablanca Club 6 Disco = R. de Arouca, 2460-080 Alcobaça
Sunset Disco Bar = R. da Fiação e Tecidos 26, Maiorga
Conclusions
Hoping to have provided you with useful information about your next holiday in Portugal, we invite you as always to share the post if you like, and email us your experiences and suggestions. As always our contacts are the following:
Email: info@almagreirahouse.com
Enjoy your stay in Peniche!